Once you are diagnosed with diabetes the risk of heart disease more than doubles.
To help prevent heart disease, the American Heart Association recommends eating fish twice a week. To achieve that goal, here 5 canned fish options high in the omega-3 fatty acids:
Tuna
Mackerel
Salmon
Herring
Sardines
Need recipe ideas? You can make the classic tuna salad or use any of these canned fish for a salad. There are several variations of tuna salad so choose your favorite combination and make up your own version!
Classic Tuna Salad Recipe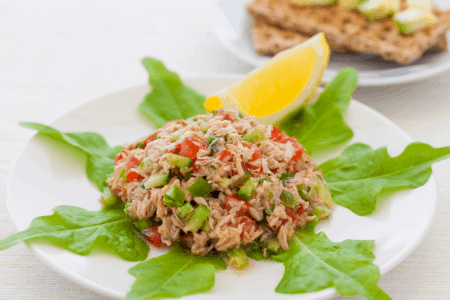 Ingredients
Tuna (18 oz) drained: light tuna will generally be lower in mercury than albacore.
Celery (1/2 cup chopped or minced): great to add if you like the crunch! Celery has more than a dozen antioxidant nutrients. Just be sure to eat that celery in your fridge within a week.
Sweet pickle relish (2 Tbsp): this is one of my favorite flavor additions.
Dijon mustard (1 Tbsp): adds more flavor than traditional yellow mustard.
Mayonnaise or Miracle Whip (½ cup): choose your favorite or use half yogurt/half mayo.
Pepper (1/4 tsp)
If you are making Tuna Pasta Salad here are some tips for possible added ingredients:
Frozen peas: adds fiber but also carbohydrate to your salad so add in small amounts.
Pasta: if you are making Tuna Past Salad a common misconception is that whole wheat pasta is low carb, but PORTION is more important. Just use less pasta and more of the tuna and veggies.
Cheddar cheese: remember – no carbs in cheese but it is high calorie if you are watching your waistline.
Hard boiled eggs: another protein addition
Onion: add your favorite variety of chopped onion but don't peel more of the outer layer than necessary or you will lose flavonoids that help fight disease!
Canned Wild Mackerel on Crackers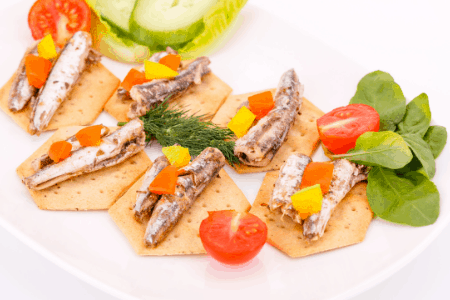 This is a recent discovery for me.  I purchased a canned wild mackerel cooked in olive oil and enjoyed it on my favorite crackers with a little salt & pepper. This tasty lunch has 21 grams protein, 14 grams carbohydrate (from the 7 crackers), and over 1500 mg of omega-3s!
On my list to try:
Herring Kipper Snacks on Toast.  What are Kipper Snacks?  Salted and wood smoked herring. I plan to try them with avocado or guacamole and tomato. Did you know herring is at the top of the list for omega-3 content? My husband likes pickled herring so if that is one of your favorites also, you can enjoy knowing you are also getting your omega 3!
Sardine salad: Are you a sardine fan? I have not ventured into the taste of sardines but here is a recipe idea on my list to try: chopped canned sardines, aioli, diced celery, onions, carrots mixed and served on crackers or crusty bread.
Salmon patties:  I can't believe I haven't made these yet because they sound so good. I just need to decide on which recipe to try first.
To get help working healthy foods like these into a meal plan contact Karen to learn more about her 6-week Meal Planning program.